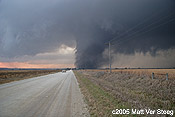 Matt's Storm Chasing Comments
Saturday, March 7, 2009 1:00am cst
by Matt Ver Steeg, WeatherEdge, Inc.

The 2008 storm chasing season has been an active one, especially in my home state of Iowa. We've witness the loss of life from several of the tornadoes that struck the state this spring, especially in the Parkersburg area. Out thoughts are prayers go out to those impacted by this weather. Nobody is immune to the whims of nature. What we've come to reply upon day after day in our normal lives can all change in a matter of seconds.

My mind is on this topic because yesterday morning around 5:15am, an EF2 tornado hit the small, sleepy town of Attica, Iowa. Attica is one of those places you might never notice, because you drive past it in less than 20 seconds. But for me, it had a rich history. My mother attended school there. My grandfather worked in the numerous coal mines during the early 1900s through that area. My uncle built a house there, my stepbrother had a farm on the south side of town, etc..etc. Well, most of that is gone or destroyed now, along with a barn that my stepbothers and I played and work in when I was a youth.

By the way, I have a few of my photographs available on THIS WEBSITE if you'd like to look at them.

Allow me a quick side detour here.. I'd like to thank all of you folks for visiting stormchase.us throughout the years. We continue to set record for visitors and bandwidth usage. Recently we had to move to a different server to handle the bandwith. Look for some new updates to the site, along with new tornado movies in the near future.


Say what you will about weather and the continuing debate about global warming. I can attest from personal observations over 45 years that the weather in Iowa has changed since my childhood. The types of storms we see today are different. One theory I've had has been the increased density of crop production in our state, and the resultant rise in evapotranspiration, which artificially modulates our dewpoints during the summer months, effectively placing us in a tropical air mass.

My thoughts and prayers go out to all the victims of storms and other natural disasters. I might document them, but I've also seen first-hand the toll exacted on people's lives.

There has been quite a debate raging in the media and among storm chasers regarding the amount of vehicular traffic and 'chaser convergences' during significant severe weather outbreaks. Ever since the movie 'Twister' came out (coupled with increased media coverage), I've observed the traffic congestion first-hand. All I can say is drive safely, use common sense, and pay attention to the direction of local law enforcement. Severe weather affects people's lives. Their world can be shattered in mere seconds. Local police, fire and rescue personnel can easily be overwhelmed after a severe weather event.

Thanks to everybody who visits this site on a regular basis!


We captured several tornado pictures during the 2003 chase season. See them HERE.
Our main photo gallery features pictures of tornadoes, lightning, and severe thunderstorms.
Matt is also a musician, and has written several songs, available on iTunes. Check them out!

News Articles, Essays, and Opinions:
QuickTime movies of tornadoes have been uploaded to the site. Check out a monster Kansas wedge, an Oz-like tornado, and other twisters from Iowa, Nebraska, and Kansas...
I've had it with SUV's. Its back to a minivan...
Need a private forecaster? I know a good one...
Students are always asking about storm chasing as a career...
Matt's musings on the joy of tornado chasing can be found here...

Portable radars for storm chasers. Are they really needed?
We have tornado video available. Here's a sample...
Movies of the Sitka, KS and Treynor, IA tornadoes are available...
Who can chase storms? Nobody? Anybody? Your ferret?
What's the ideal vehicle for storm chasing? (Before my SUV nightmare.)
The rumor is that a storm chaser makes the big bucks. Here's the truth...
How many toys and expensive doodads do I need to get pictures of tornadoes?
What's tornado chasing all about, anyway?
Credits:

ABC, CBS, NBC, BBC, CNN, The Weather Channel,The Discovery Channel, The Learning Channel, The Tornado Project, Towers Productions, The National Weather Service

Home | General Weather | Severe Weather | Surface Weather | Upper Air | Satellite | Radar | Computer Models | Raw Data | News Articles | Tornado Pictures | Tornado Movies | FAQ'S | Research | Weather Courses | Archives | Space Weather | Storm Chasing Links | Contact | Aviation Stuff |

Disclaimer:
Storm chasing is dangerous. You could be hurt or killed in its pursuit, especially if you have little or no knowledge of severe storms and their environment. Chase hazards include but are not limited to heavy rain, flash flooding, lightning, high winds, large hail, tornadoes, and flying debris. Hydroplaning on the road and traffic accidents also occur. If you desire to chase, get informed and educated about weather. Contact your local National Weather Service Office, and enroll in a SKYWARN training class. Read and view all of the published information regarding severe weather, thunderstorms, and tornadoes that you can. You are responsible for educating yourself. Next, contact an experienced chaser in your area, and arrange to travel with them, until you've gained sufficient experience to go it alone. Even at that, veteran chasers get caught in harm's way from time to time. Play it safe. This page is for informational and educational use, and the authors disavow any responsibility for actions you may take.

Images and articles © 2009 Matthew Ver Steeg, Adam Frederick, and Weather Edge, Inc. All rights reserved.
Unauthorized use prohibited. Text, graphics, and HTML code are protected
by US and International Copyright Laws, and may not be copied, reprinted,
published, translated, or otherwise distributed by any means without explicit permission.